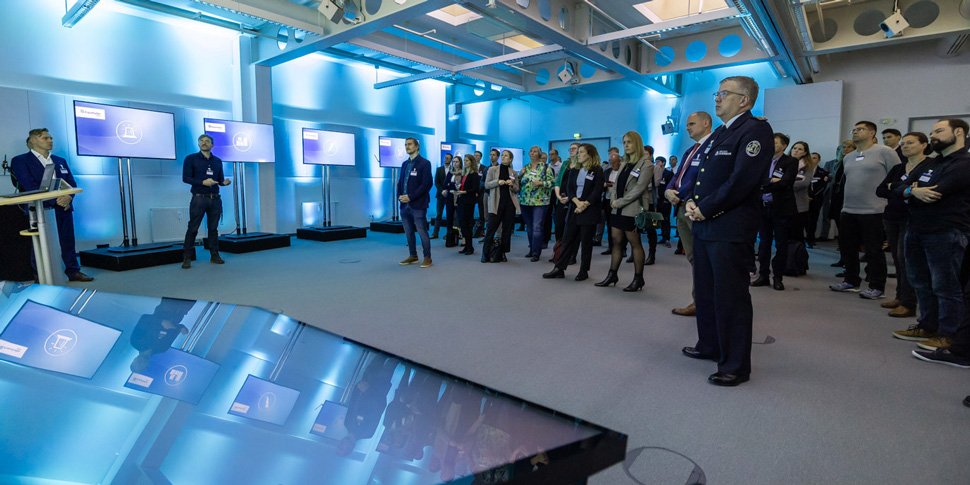 At the first annual conference of the Fraunhofer Center for the Security of Socio-Technical Systems SIRIOS, guests were able to experience various interactive demonstrations.
Combined force for safety in Germany
News from Oct. 25, 2023
At its first annual conference, Fraunhofer SIRIOS presents itself as a technology and innovation platform for public safety. In the event center of Fraunhofer FOKUS in Berlin, transformed into a demo lab, around 140 guests, representatives from politics, security authorities, industry, associations, and research came together on October 19 to discuss the first results of Fraunhofer SIRIOS.
Three keynotes, which looked at the status and future of disaster management from the perspectives of the insurance industry, disaster management, and research, highlighted the importance of being prepared. For example, Dr. Olaf Burghoff, Head of Property Statistics and Natural Hazard Modeling at the German Insurance Association (GDV), used loss evaluations to show that natural hazards can affect anyone and result in massive losses. Dr. Karsten Homrighausen, State Fire Director of the Berlin Fire Department and Chairman of the Advisory Board of Fraunhofer SIRIOS, expanded the presentation to include a view of the concrete challenges of complex crises and the opportunities they present for disaster management. In conclusion, SIRIOS spokesperson and head of Fraunhofer FOKUS, Prof. Dr. Manfred Hauswirth, clearly emphasized the importance of a joint approach: "Thanks to the bundled Fraunhofer expertise, SIRIOS acts as a central technology and innovation platform for public safety, i.e. as an enabler, driver and developer of new technologies, and as an open association can also respond to the needs of security organizations at an early stage."
In the interactive demonstrations that followed, Fraunhofer project leaders showed what current solutions look like. For this purpose, they transformed the event hall into a demo lab and led the guests through a crisis scenario: A storm with high amounts of precipitation caused a power substation to fail. By coupling complex supply infrastructures in simulations (e.g., electricity, gas, communication networks, and water supply), the SIRIOS researchers presented possible disruptions and their cascading effects. Integrating all simulation data into a situational picture for emergency response planning allowed conclusions to be drawn about whether or not an affected hospital should be evacuated. What was implemented here as a simulation with a fictitious scenario using the example of a city district serves as a technical starting shot and proof of concept to make the technologies usable in practice.
When considering large events and crowds, as demonstrated in the second presentation, "cascades" arise as well: In hazardous situations, depending on the technical, infrastructural, and structural framework conditions, high dynamics and confusion can occur in such cases, making predictions possible only with technical simulation. Using Hamburg's port birthday as an example, the simulations played out various "what if" scenarios and showed how crowds of visitors behave in the event of closures due to construction work, stage performances with large influxes of fans, and warnings due to hazards. Implementing a VR environment in 2D and 3D provided additional insights, e.g., to place closures for sensitive access routes in the best possible way. To illustrate the approach of the agent-based simulation, guests were finally able to participate in a live demo in small groups. Using intelligent video technology, they were automatically captured as abstract "avatars" (so-called agents). Based on assumed behavioral parameters, the participants were able to observe their own agents in a second step during the simulated escape from a fictitious danger.
The participants in the concluding discussion, Mona Teresa Trenkner (CAE GmbH), Annika Berg (EnBW Energie Baden-Württemberg AG), Christoph R. Kämpf (Berlin Police), and Prof. Dr. Lars Gerhold (TU Braunschweig), praised the potential of the work presented but also emphasized the need for these new technologies to be able to be integrated into existing system landscapes to really make it into practice.
About the Fraunhofer Center for the Security of Socio-Technical Systems SIRIOS:
SIRIOS, commissioned by Fraunhofer at the beginning of 2022, combines Fraunhofer competencies in the field of security research to bundle technological solutions in areas such as simulation, situation images, crisis communication, and virtualization together with security authorities (BOS), operators of critical infrastructures (KRITIS) and industry.