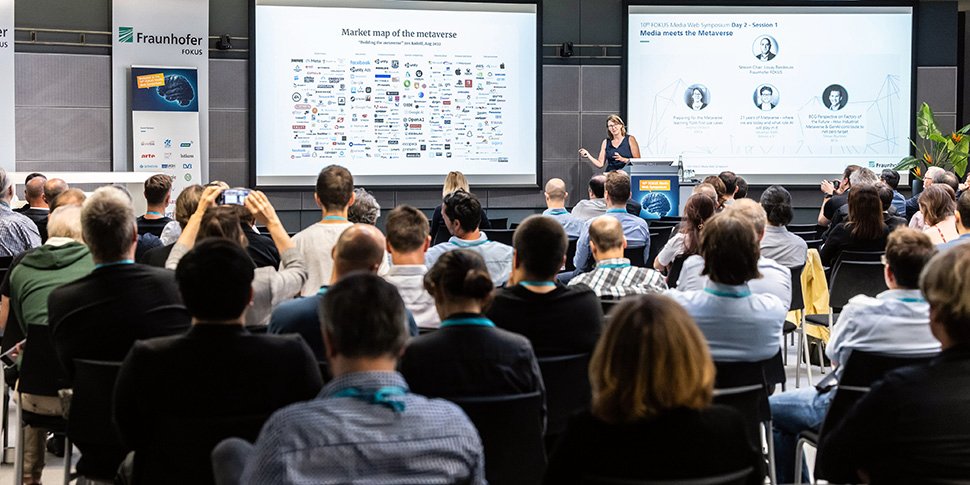 FOKUS Media Web Symposium celebrates its tenth anniversary
News from June 20, 2023
Fraunhofer FOKUS has been organizing the FOKUS Media Web Symposium (MWS) since 2010. For its tenth anniversary, over 200 participants from 21 countries met in Berlin on the 13th and 14th of June, 2023. With its tutorials and workshop, the MWS once again offered the opportunity for deeper insights into Internet-based media.
Since its inception, the FOKUS Media Web Symposium (MWS) has developed into a meeting of experts on media technologies and applications. Not only do technical aspects play a role in the lectures and workshops, but the economic marketing of new applications is also always on the agenda. At the tenth anniversary, topics such as artificial intelligence or the metaverse were focal points of the discussion.
An exhibition accompanied the FOKUS Media Web Symposium at which the latest developments from research could be experienced live.
The event was supported by MWS partners 5GVictori, 5GMAG, 6G.NeXt, ARTE, Berlin Partner, bitkom, BITMOVIN, DASH Industry Forum, DVB, G&L, Google, GS, Green Streaming, HbbTV, LOGIC, Metaverse Standards Forum, T-Labs, Urban Hawk, Vaunet, W3C, WAVE.
In addition to the MWS, working meetings of the "dash.js Community", the "DASH Industry Forum" and the "Berlin Video Tech Meetup" took place during the Media Web Week.
The 11th FOKUS Media Web Symposium will take place in June 2024.
Related Links: